Benefits of Proprietorship Form of Business
Start Business in One Day
Proprietorship formation is the easiest among all other business forms and can be started within one working day.
100% Online & Easy Process
We help small business to start their business as proprietorship firm in an entirely online environment and without any hassle.
Ease of Compliance
The compliance requirement is significantly less, and there is no need to get the accounts audited or file any annual return.
Easy To Close
There is no specific process to close the proprietorship firm. Simply surrender all registration and licenses and close business.
Easy To Control & Manage
As there is no separation of ownership and control, it is considerably easy to manage and control the proprietary business.
Tax Advantage
As the taxable income forms part of the Proprietor's ITR, The benefit of slab based income tax is available to proprietorship.
Documentation & Pricing
A. Documents of the Owner
Colour Photo - Two
Aadhar Card
PAN card
Cancelled Cheque
Address Proof (Voter ID, Driving License, Passport, Bank Statement, Electricity Bill).
B. Business Address Proof
Electricity Bill, Property tax receipt, Sale Deed, Registered Rent Agreement
It should not be older than two months
NOC from the Owner of Premises
All-Inclusive Package
₹2360/-
(Prof Fee Rs 2000 + GST Rs 360/-)
Include GST and MSME Registration.
Necessary to Start a Proprietorship Business
After successful payment, please download the questionnaire, fill it and
send it to us at help@setindiabiz.com along with the list of documents for further process.
Easiest Process to Start Sole Proprietorship Business
01
GST Registration Certificate
The Registration under GST is a must for doing business if turnover exceeds 20 Lakh or you do Inter-State. Business
02
MSME (Udyam) Registration
To avail several benefits of the MSME Act, you should register as UDYAM. This is a vital registration for small business
03
Shop & Establishment Registration
Every shop or commercial unit requires registration with the labour department. It is mandatory
04
Bank Account of Proprietorship
This is necessary to carry on the business. You can open a current bank account with any scheduled Bank
in India
Comparison
Proprietorship
There is no specific law of parliament or state that regulates the proprietorship business that is why it is so simple to start and operate. It also means that there is no way the details of the composition of the proprietorship business can be known.
OPC Company
One Person Company is owned by a single owner, akin to proprietorship. However, the OPC is registered in and regulated by the Companies Act, 2013. The details of the companies are verifiable at the MCA Portal. | Learn more on OPC
Partnership Firm
The partnership firms are a traditional form of business and can start by way of an agreement between the parties. The Partnership Act of 1932 regulates the affairs if a partnership firm. The details of the partnership firm are not verifiable easily. | Learn more on Partnership Firm
Proprietorship
You can start the proprietorship firm with any amount of capital. It means there is no minimum or maximum capital prescribed as such for a proprietorship firm.
OPC Company
For a company including the OPC, before 2015 amendment of the companies act, there was a requirement of minimum paid-up capital of Rs 1 Lakh. However, post amendment of the law there is no prescribed minimum capital as such. It means you may incorporate an OPC with any capital as you desire. Learn more on OPC
Partnership Firm
Just like the proprietorship or partnership, there is no minimum paid-up capital that has been prescribed in the partnership act
Proprietorship
A single Individual can start a Sole Proprietorship Firm, where he alone will invest all the capital and shall be entitled to all the profits of the firm.
OPC Company
The OPC can be owned by only one Individual, also known as the sole shareholder. However, the sole owner of the OPC has to nominate another person to become his or her nominee. The OPC can have up to 15 directors. Click here to understand the difference between a shareholder and a director
. To learn more about OPC Registration
Partnership Firm
In a partnership firm, a minimum of two partners is prescribed with a cap of a maximum of 20 partners.
Proprietorship
The proprietorship business lacks the benefit of perpetual succession. With the demise of the proprietor, the firm also ends its life. The proprietor and the proprietorship are the one and same.
OPC Company
The OPC is recognised as a separate legal entity in the eyes of the law, and the business is transferred to the nominee after the demise of the proprietor.
Partnership Firm
Just like proprietorship, the partnership business is not regarded as a separate business. In fact, with the death or removal of a partner, a new firm comes in existence in place of the old one.
Proprietorship
The proprietor is personally liable for all the liabilities and debts of the business. To pay off these liabilities, the personal properties of the proprietor can also be attached.
OPC Company
In an OPC the single shareholder is not liable for all the liabilities or debts of the company, and instead, he/she is responsible for paying only the sum which may be outstanding from her subscribed share capital.
Partnership Firm
The liabilities of the partnership firm is the joint or severe liability of each and every partner of the firm. Akin to the proprietorship, the personal assets of the partners can be sold off to pay the debts of the firm.
Process of

Sole Proprietorship Registration

Start your business as proprietorship quickly within one day. The process begins with the online order at setindiabiz. Once the order for proprietorship setup is processed, we will initiate the documentation and further process. As said earlier, the process is entirely online, and there is no need for you to visit our office. Please do contact us for any clarification.

Request to Call Back Explore Price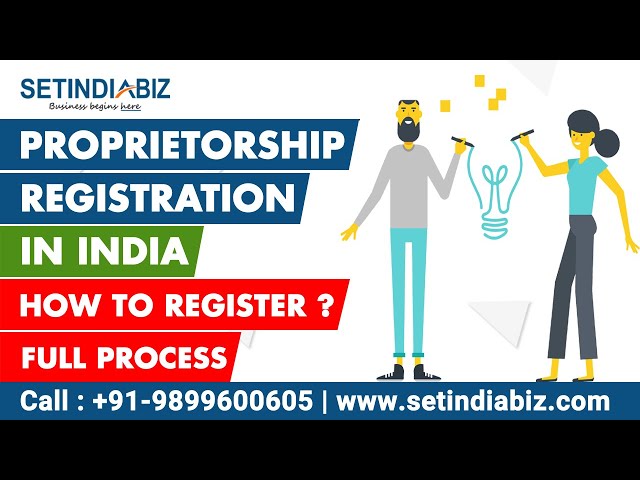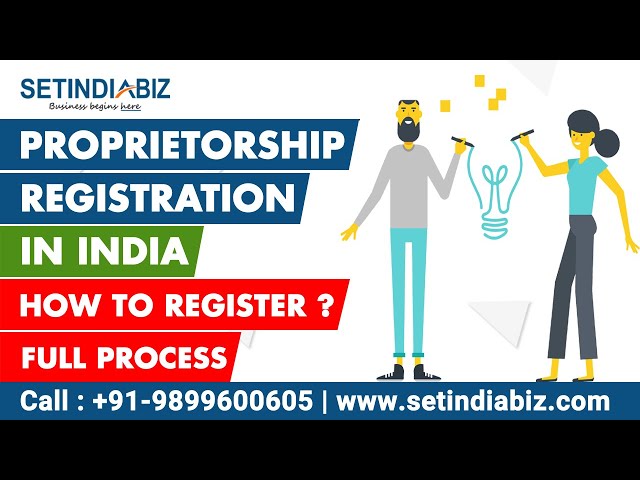 Minimum Requirements to Start Proprietorship
Indian Citizenship
The proprietorship business is available exclusively to the Citizens of India. The FDI is not allowed in it, hence to start a sole proprietorship we need on Indian Citizen capable of entering into contracts (Above 18 Years of age)
Business Address
The business can not be run from a residential address as per local municipality laws, hence for GST Registration, the Goods and Services Tax Department insist on the commercial premises of premises where mixed land use is permitted.
Capital Requirement
The sole proprietorship business is not separate from the Individual Proprietor, and There is no separate recognition to the assets of the business or that of the proprietor. Hence you do not have to worry about capital requirements. Invest as per requirement.
Stepwise Process of Proprietorship Registration
"Starting a Sole Proprietorship is an easy and online process, Place an online order with us. We offer one of the best pricing for startups and small business, then follow the below steps."
Advantages and Disadvantages of Sole Proprietorship Business Type
1.
Easy to Start
You can start the proprietorship immediately at your will, take care that the business name does not infringes someone else's trademark. You may request a free trademark search
from us. We strongly advise you to protect your business name, logo and domain name under Trademark Law. Click here to order for Trademark Filing
. As per your business needs, you can go for MSME, GST or IEC Registration.
2.
Ease of compliance
The most significant advantage of a proprietorship business is that you don't have to file any additional annual return like a company. However, please note that the taxes are applicable in the same manner as it applies to any other business format; hence you will have to pay Income Tax and GST and file required returns.
3.
Easy to Close the Proprietorship Business
To close the proprietorship, there is nothing which you have to do specifically. Pay all statutory dues like Income tax, GST etc. and surrender all the registrations taken in the name of the firm. The closing proprietorship is easier in comparison to other forms of business.
1.
Unlimited Liability of Business
A proprietor is personally liable for all the future liabilities of the proprietorship firm, which can occur due to constant losses in the business. To pay off debt or obligation of the business, the proprietor has to sell his personal assets, like the house, jewellery etc. or face insolvency proceedings in his name. Frankly, this is a very serious demerit, and to overcome this, you may incorporate a One Person Company.
2.
Transferability
Because all the tax registrations like GST, Income Tax and Import Export Code are linked with the PAN Number of the proprietor, hence in case you wish to transfer the business to someone else then it cant be transferred as a going concern. In other words, the business as such is not transferable.
3.
Lifespan of Proprietorship
The existence of a proprietorship firm is tied with the life of the proprietor. On the demise of the proprietor, the firm also comes to an end. The remaining assets or liabilities are then transferred to the legal heirs as per law by the court of law.
4.
Fundraising or Angel Investment
The proprietorship firm does not have the ability to raise equity fund from angel investors or the venture capital firms. The banks, NBFC and other financial institutions also do not favour financing of a proprietorship firm.
Review of Setindiabiz
Frequently Asked Questions
1.
What is a sole proprietorship?
A sole proprietorship firm is an oldest and simplest form of business owned and controlled by a single individual. The owner of the proprietorship firm is known as proprietor. The proprietor alone invests entire capital and is thus entitled to all the sole proprietorship firm's profits. The liability of the sole proprietor is unlimited to its business, and as such, there is no separation between him and his business.
2.
Who can be a Sole Proprietor?
A sole proprietor is the absolute owner of a Sole Proprietorship Business. Any person who is above 18 years of age and who is otherwise capable of entering into a lawful contract is eligible to start a business as a proprietorship. The option to start a proprietorship is available to Indian Citizens only, and the Foreign Citizens are strictly not allowed to set up or operate a proprietorship firm. However, an NRI and OCI are permitted to establish proprietorship firms subject to no repatriation of their profits.
3.
How to Register a Sole Proprietorship Firm?
Ease of formation is the most significant feature of the sole proprietorship form of business. There is no prior registration required to start a proprietorship firm. Similarly, after starting the business, no law makes it mandatory to register the sole proprietorship. No agreement, deed, or documents are to be prepared for starting a proprietorship, and the firm's registration is also not required. However, the owner may be required to obtain a license specific to its business activities like FSSAI, Drug License, etc. The registration under the shops and establishment act is necessary for some states within 30 days of proprietorship establishment.
4.
Do sole proprietorships need to be registered like LLPs or Companies?
Except for the proprietorship, there is a regulating act for different business forms, such as partnership Act 1932 for the partnership business, LLP Act, 2008 to regulate the Limited Liability Partnerships. The company law regulates the companies for a long time, and the most recent law on the subject matter is the Companies Act, 2013. LLP & Companies comes into existence after a certificate of incorporation is issued by the ROC, whereas there is no such requirement of prior registration for proprietorship firms.
5.
What is the difference between Proprietorship and Other Forms of Business?
We have prepared a detailed and easy to understand comparative table showing availability of features and advantages of one form of business to that of others. The same can be found at the end of this page. Click here to learn more
6
What is the minimum amount of capital required to start a Proprietorship Firm?
A proprietorship business can be started with any amount of capital and as such, there is no provision in the law which prescribes any minimum capital for the firm. The capital must be infused by the proprietor based on the nature and scale of the proposed business. You shall have the ability to introduce or withdraw capital at any time from the accounts of the proprietorship business as drawings.
7.
Do I require another person to register a Sole Proprietorship in India?
No, A proprietorship business is owned and controlled by a sole person. There is no requirement to engage any other person to start a proprietorship business.
8.
How to open a bank account for a Proprietorship?
The opening of Bank Account is regulated by the Reserve Bank of India, which has prescribed submission of at least two entity proofs for the proprietorship. To open a bank account, you may approach any bank nearest to you, and generally, they need the following documents. Please click here to read our article on the List of required documents for the opening bank account of proprietorship firms in.
9.
Can I later convert my Proprietorship into a Company or LLP?
Yes, the proprietorship can be converted to LLP or Private Limited Company, however the conversion process is complicated and unless it is not necessary due to existing contracts or IPR we do not advise to go for conversion.
10.
Will my Proprietorship firm have a Certificate of Incorporation or Registration?
There is no certificate of registration or incorporation for proprietorship business as such. The legal identity of proprietorship as an entity is determined through various other registration or licenses obtained in the name of the proprietorship firm on the case to case basis. Similarly, each specific registration shall result in the issuance of a certificate of registration, for example, GST Certificate, MSME Registration Certificate, Tan Allotment Letter, etc.
11.
Under which Government Authority, the application of Sole Proprietorship Firm Registration is submitted?
There is no law which enforces registration of a proprietorship firm as such, SETINDIABIZ helps entrepreneurs in securing registration under MSME, GST, Shops & Establishment, etc. the MSME registration is done under The Micro, Small and Medium Enterprises Development Act, 2006 of Central Government.
12.
Does the proprietor have to be an Indian to start a Proprietorship firm?
Yes. Only an Indian Citizen can start proprietorship business. Similarly, no foreign funding is allowed in a proprietorship form of business. However, an NRI or a Person of Indian Origin (POI) can invest in proprietorship with prior approval from the central government of India.
13.
How are sole proprietorship treated for tax purposes?
As there is no difference between the business and its owner in case of proprietorship, Unlike corporations, sole proprietorships are not treated separately for the income tax purposes. This means that any profit derived from your sole proprietorship is treated as your personal income and is accounted for on your individual tax return. Any such income is taxed to you in the year it was received or accrued to you. The business income shall be shown as separate income in the income tax return of the proprietor.
14.
How to Establish a Sole Proprietorship business?
Yes. A partnership firm can sue or be sued in it's own name. The firm is treated separate from its partners. However the partners do not enjoy limited liability as available in case of LLP or a company. In a situation where the firm is not in a position to discharge its liabilities the partners shall be called in to pay the liabilities of the firm.
15.
Is it difficult to open a Bank Account for proprietorship?
Opening current account in the name of the owner of the proprietorship firm is very easy; all they need is know your customer (KYC) Documents of the proprietor. However if the bank account is to be opened in the name of the proprietorship then bank need two entity proof in the name of the firm. Setindiabiz Specialist shall be able to assist you for opening the account.
16.
Am I personally liable for my business under a sole proprietorship?
Yes. Unlike other incorporated business forms, the liability of the proprietor is unlimited to the sole proprietorship. The unlimited liability of the proprietor means that debt collectors can come after your assets, homes, cars, etc. For this reason alone, you should be extremely cautious while setting up a sole proprietorship. Setindiabiz.com recommends One Person Company (OPC) in place of proprietorship.
17.
Do I need an attorney to help me start a sole proprietorship?
Strongly recommended to have a consultation with our startup specialists, which is free and is available without any obligation as such to take our services. As every business is unique and there may be circumstances where a partnership, Limited Liability Partnership (LLP), Private Limited Company or some other kind of business structure is a better fit. You also may want to get more insight into the specific liabilities your sole proprietorship may face.
17.
Can I register an online marketplace such as Amazon or Flipkart as a sole proprietorship?
Yes, a proprietorship firm is a legal form of business and fully recognised by e-commerce platforms such as Amazon and Flipkart. You can very well enlist your proprietorship firms with the marketplaces.
18.
Can I register an online marketplace such as Amazon or Flipkart as a sole proprietorship?
Yes, a proprietorship firm is a legal form of business and fully recognised by e-commerce platforms such as Amazon and Flipkart. You can very well enlist your proprietorship firms with the marketplaces.
19.
Which one is better, a one person company (OPC) or a sole proprietorship?
Both the proprietorship and one person company is a venture owned by a single owner; the proprietors are liable for all the business's debts, whereas the OPC protects limited liability to its shareholders. Kindly refer to our blog post on Proprietorship Vs OPC in view of changes made by union budget 2021.
20.
Can a person be a proprietor and a director of another company?
Yes, a proprietor is an individual and can be appointed as a director of a private limited company without any problem.
Trusted by

Leading Companies