4.8
Our Professional Fee For FSSAI Registration of License in India
Fssai Registration
Required if the turnover is less than 12 lac in a Financial Year & the business is within the state
₹ 2,999/-
Government Fee on Actual
Get Started
Fssai State License
When turnover is more than 12 Lac & upto 20 Crores for retailer/ 30 Crores for wholesalers
₹8,499/-
Government Fee on Actual
Get Started
Fssai Central License
For all cases where turnover exceeds limits prescribed for state License or involved in export.
₹ 11,999/-
Government Fee on Actual
Get Started
Overview Of FSSAI
Registration for FBO
Food is a vital sector for our economy, being an essential commodity for life. Everyone needs it. It is a well-settled rule that the demand for an item gives rise to business opportunities. Thus, many petty food manufacturers like Hawkers, a temporary stallholder or itinerant vendor or a small FBO carrying out its business within the state and having an annual turnover below 12lacs. All these businesses need to register themselves with FSSAI before the commencement of their business. Food registration is mandatory for these petty food manufacturers and small FBOs to regulate the quality of food products and ensure that FBOs could provide healthy, wholesome and hygienic food to all.
FSSAI Registration: The Food registration is the basic registration with FSSAI of a FBO. It is required by petty food manufacturers or the FBO having a turnover of less than Rs 12 Lakhs unless the FBO is covered under mandatory state or central licencing. Kindly refer to our detailed discussion on applicability at : Applicability of FSSAI Registration or License on your Food Business.
Food registration, once granted, shall be valid for the period opted at the time of making an application. The FBO may opt for a validity period from one year to five years. On successful grant of food registration, the Registering Authority shall issue the FSSAI Registration Certificate and a photo identity card. These need to be displayed at a place visible to all coming to the vehicle or cart or premises or any other place where the person carries on sale/manufacture of food in Petty Food Business. Once an FBO gets a registration certificate from FSSAI, it can start its business in compliance with the conditions mentioned in the registration certificate. Every FBO granted a registration certificate must follow general hygienic and sanitary practices.
Annual Return
No annual return filing is required in case of FSSAI Registration.
Exemptions
Those producers of milk are granted exemption from Food registration who supplies or sells the whole milk to dairy Cooperative Society registered under Cooperative Societies Act and is a registered member of it.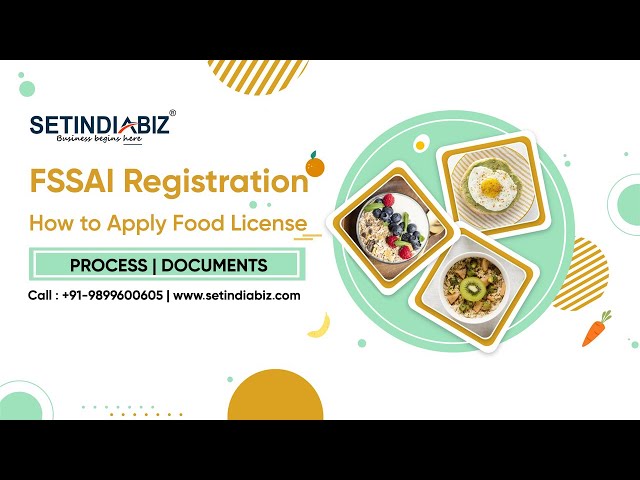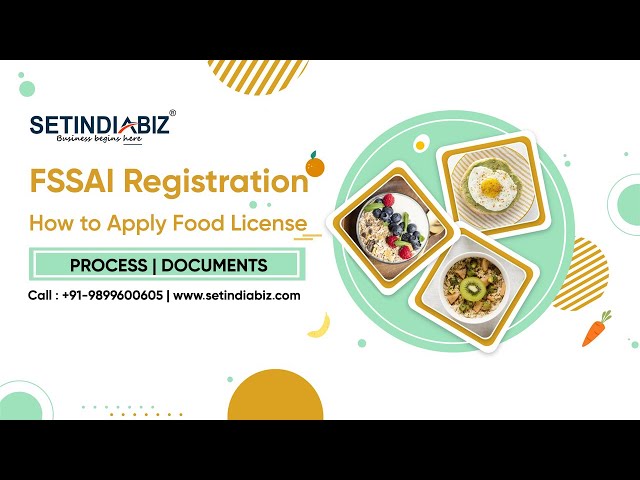 Eligibility for
FSSAI Registration
Petty Food Manufacturer must apply for Registration / Renewal of Registration under Food Safety and Standards Act, 2006. The condition laid down to fall under the definition of Petty Food Manufacturer is as under:
Sells or manufactures any article of food himself or temporary stall holder or a petty retailer, hawker, itinerant vendor o; or distributes foods including in any religious or social gathering except caterers or
Average annual turnover is less than 12 lacs and/or
FBO engages in manufacturing or processing
Production capacity of food (other than meat and meat products and milk and milk products )does not exceed 100 kg/ltr per day.
Procurement or handling and collection of milk up to 500 litres of milk per day or2.5MT solid milk p.a.
Slaughtering capacity for animals is two large animals or ten small animals or 50 poultry birds per day or less.
The term Petty food manufacturer may include the following FBOs
Permanent/Temporary Stallholder
Hawker (Itinerant / Mobile food vendor))
Home-based canteens/dabbawalas
Petty Retailer of snacks/tea shop
Food arrangements in Religious gatherings, fairs etc./Food stalls
Dhaba
Processor/Manufacturer
Re Packer
Milk producers (who are not a member of dairy cooperative society)/
Milk vendor
Fish/meat/poultry shop/seller
Other(s)
Step Wise Process for
Grant of FSSAI Registration
1
Eligibility Check
The process starts with the eligibility check of the applicant FBO. In this, the experts at setindiabiz will discuss the nature of the proposed business plan in detail and help you find your eligibility as per your proposed requirements.
2
Documentation & Drafting
Once it is determined that you need food registration. The Setindiabiz team will provide you with a list of documents. Based on the requirement setindiabiz team will help you with draft documents for the necessary signature.
3
Online Application Filing
The online filing will be made by filing Form-A at the online portal of FoSCoS. In this course, we will interact with you for OTP.
4
Payment of Government Fee
Once the application is filled and the documents are uploaded in the document section, the payment of the registration fee is made, and a reference number is generated. It is a temporary number to track the status of the application.
5
Track status of FSSAI Application
The applicant can track the status of the application online. Usually, licencing authorities grant registration within seven days of the application filing, but if they opine for inspection of premises, it will delay the grant of Food registration. On inspection, registering authority may raise the clarification in the application requiring modification, addition or deletion in the application.
6
Reply to Clarification
The reply to clarification must be filed within 30 days from the date when raising clarification. If not, this will lead to refusal of the application, and a new application needs to be filed. There is no process of refunding the fee. The Setindiabiz team will coordinate with you at the time of such clarification to resolve the same.
7
Grant of Registration
On approval of the application, the Registration Certificate and photo ID Card will be issued to the applicant, which has to be displayed at a conspicuous place at the food business premises. Registration certificate has a photo FBO, Q.R. code and 14 digits FSSAI registration number that starts with numeric 2.
Timeline for Grant
of FSSAI Registration
Timeline for grant of Registration Certificate after making an application with the registration authority will depend on whether the registration authority wants to inspect the applicant's premise. The timelines are as under:
The registration authority issues a registration certificate within seven days of making an application if it does not want to inspect the premises.
Suppose the registration authority intends to inspect the applicant's premise. In that case, the inspection must be conducted within 30 days of the date of application and registration to be issued if premises are found in order.
A petty Food manufacturer may start its business without a registration certificate if registration is not granted or denied or the inspection not ordered within seven days, or no decision is communicated within 30 days of the date of applying.
It is to be noted that the grant of registration will be subject to the satisfaction of the FSSAI authority responsible for food registration. The mere filing does not mean the food registration will be granted.
Documents Required for
FSSAI Registration
The applicant of a food registration could be a proprietorship firm or any other entity like Private Limited Company, LLP, Partnership Firm, Trust/Society etc. The documentation will vary as per the type of applicant, kindly select the appropriate application type to display the List of documents required.
List of Documents for FSSAI Registration By
A. Company Documents
B. Documents of Directors & Nominee

Certificate of Incorporation
MOA & AOA
PAN Card
List of Directors
Board Resolution
Form IX: Nomination Form
List of Food Products

Government Issued Photo Identity Card
Address Proof
Email ID & Mobile Mo (For OTP)
Educational Qualification
C. Proof of Address of Food Business.
Sale Deed/ Rent agreement, and
Electricity Bill Not Older than two months
Note: A nominee is a person responsible for the compliances of Food laws, their rules, and regulations, for the Food Business.
Validity of
FSSAI Registration
A Food Registration, once granted, shall be valid for a period of 1 to 5 years as chosen by the Food Business Operator unless suspended or cancelled by the Licencing Authority. The period of validity is counted from the date of issue of the food registration certificate. It can be renewed for a further period, a maximum of five years, at one time not later than 30 days before the expiry of the validity of the registration certificate. There is no late fee in the renewal of registration as per the FSSAI notification dated 10th June 2014.
Penalty
Under FSSAI
All the FBO, irrespective of their scale of operation, kind of food business including home-based kitchens manufacturing food and bakery products whose annual turnover is less than 12 lacs is required to take food registration before the commencement of food business. If the FBO is not registered, a fine up to Rs 5 lacs and imprisonment of 6 months could be imposed depending upon the offences committed by it. The punishment or penalty will vary depending upon the scale of operation and the nature of offences. The offences and the fine prescribed is as under:
| No | Offence | Penalty |
| --- | --- | --- |
| 1 | For Non Registration | 5 Lacs & Imprisonment of 6 Months may be imposed |
| 2 | Sub standard food | Rs 5 Lacs |
| 3 | Misbranded food- The food product that bears the wrong label, tag, brand, or notice under providing misleading information regarding the composition, kind, quality or grade of the food products is called misbranded food.. | Rs 3 Lacs |
| 4 | Unsafe food which does not result in injury | Imprisonment for a term not exceeding six months combined with fine which may be upto Rs 1lac. |
How
We Help!
Applicability Check: The Setindiabiz team will help you check your eligibility regarding your requirement of food registration or Food Licence
Documentation: Once eligibility is finalised, our experts will help you with documentation.
Application filing: We will file an online application after receiving a complete set of documents duly signed by the concerned person and provide you with a reference number to track the application status.
Track Status of Application: We will tracking the status of the application till its disposal by the food registering authority
Frequently Asked
Questions
What is a FSSAI Registration?
It is basic food registration required by a petty food manufacturer. No food business operator can start its food business without seeking registration if its business falls in the category of registration. It has a validity period and must be renewed before its expiry to continue the said food business. The validity of registration varies from one year to five years as per the choice of FBO.
Who needs an FSSAI Registration /Food registration?
A petty food manufacturer requires FSSAI Registration. A petty food manufacturer includes:
Any FBO who sells or distributes food products manufactured by him or
All FBO having annual turnover is less than 12 lacs, and the production capacity does not exceed the limit mentioned below:

Dairy Units-Procurement or handling and collection of milk is up to 500 litres of milk per day
Slaughter Houses-Slaughtering capacity is two large animals or ten small animals or 50 poultry Birds per day or less
Any other FBO does not exceed 100 kg/ litre per day
How do I know the applicability criteria and Kind of Food Business category for my food business?
We have discussed the kind of food business and the applicability criteria in detail on the page. Understanding the basics of food licence, you may refer to the same for a general understanding. Further, the experts at Setindiabiz will help you to finalise the same.
What are the criteria for registration?
Every petty food manufacturer requires registration. Petty food operator means any business operator who
Manufactures and sells any article of food himself or distributes food including in any religious or social gathering. For example, petty Retailers, hawkers, itinerant vendors, or temporary stall holders do not include caterers.
All the other food business operators whose annual turnover is Rs 12 lacs or less provided they are not engaged in processing and manufacturing food.
Food business operator engaged in manufacturing and processing of the food and the production capacity is as under:

Production capacity of food other than meat and meat products and milk and milk products is not more than 100 kg/ litre per day
If in dairy business procurement or handling and collection of milk is up to 500 litres of milk per day.
If the FBO is in the meat business, the slaughtering capacity is 50 poultry Birds per day or ten small animals or two large animals or less
Who grants registration certificates?
The registration authority grants food registration certificates. The registering authority is a Food safety officer or any officer in the panchayat, municipal corporations or any other local body or Panchayat area notified by the State food Commissioner for registration.
What is the maximum time for the grant of a Registration Certificate after applying?
Registering authority may grant registration within seven days of the receipt of the application for registration or issue notice of inspection within the said period of 7 days, or it may reject with reasons to be recorded in writing. The registration authority cannot refuse the food registration without giving a valid reason in writing for its rejection.
After due satisfaction with the safety, hygiene, and sanitary condition of the premises, on inspection, the Registering Authority grants the Food registration within 30 days.
A petty Food manufacturer may start its business without a registration certificate if food registration is neither denied nor any inspection ordered within seven days, and nor any action taken on the application within 30 days of the date of applying.
In what circumstances will the application be rejected?
The registration authority may reject the registration application where the reply to the clarification is not filed within 30 days of raising such clarification.
What are the General Hygienic and Sanitary Practices to be followed by a registered FBO
The General Hygienic and Sanitary Practices to be followed by a registered FBO is prescribed in Schedule 4, Part I of Food Safety And Standards (Licensing And Registration Of Food Businesses), Regulations 2011.
Penalty for running a food business without an FSSAI
Suppose a Petty food manufacturer fails to obtain a registration. In that case, a fine not exceeding Rs 5 lakh and imprisonment for up to 6 months may be imposed, depending on the nature of the offence. The sale of food products without a quality tag will lead to a penalty of Rs 5 lacs, whereas a fine of Rs 3 lakh is levied for sale without a label. Thus, homemade food suppliers, dabbawala, home baker, etc., should register themselves to avoid hefty fines and imprisonment. Kindly contact team setindiabiz to get your food business registration.
Review