4.8
We Are Trusted By 1000 of Business Just Like You
Best Rate
Guaranteed
PAN India
300+ Services
16+ Years of
Founders Experience
100% Online
Customer Support
CA Assisted Tax Filing Plans By Setindiabiz

Easy & Online Tax Filing Service By Chartered Accountants. No Software can do a better job than a CA.
Dedicated Relationship Manager
100% Transparent and Accurate Tax Computation
Online process and Live Track of the progress
Advisory and Consultation with CA
Pricing for Individual
For Salaried Individual or With No Business Income
PLAN A
Salary or Rental Income
₹749
Covers Income From
Salary
Rent from House Property
Bank/FD Interest
Does not include Business Income
Order Now
PLAN B
Capital Gain & Other Sources
₹2499
Everything of PLAN A +
Capital Gain from Mutual Fund or Stock
Capital Gain on sale of property.
Gift Cases
Other Sources
Order Now
PLAN C
Foreign Income Included
₹4499
Everything of PLAN A+B &
Income earned out of India
NRI or NRO cases
DTAA Guidance
Order Now
Pricing for Small Business
For Individual Self Employed, Freelancers & Small Traders
PLAN D
Consultants & FreeLancers
₹2499
Covers Income From
Professionals such as doctors, coaching teachers, architects etc.
Professional Fee as Income
TDS Refund support
Order Now
PLAN E
Small Service Providers
₹3499
Covers Income From
Services with Gross turnover less than 30 Lakhs
No accounting is covered, if required can be provided on additional fee
Order Now
PLAN F
Small Traders
₹6999
Covers Income From
Small trading activities
Covers cases of flipkart or amazon sellers
The annual turnover is less than 1 Crore
Benefit of presumptive tax
Order Now
First Pay Tax Then File Return
Filing of income tax return is a self assessment method wherein the taxpayer needs to make a computation of taxable income earned during the previous year and the income tax payable thereon. Before filing the return, the due tax must be paid. The tax can be paid online or through challan 280 by depositing in bank with cheque or cash.
Late Return Filing
If the taxpayer has missed the due date of filing the Income tax return, the same can still be submitted as "belated income tax return" within the last date of the assessment year. However, the losses or accumulated depreciation cannot be carried forward, and in case there is any error the belated return cannot be revised.
Penalty For Not Filing The ITR
Filing of ITR is a mandatory requirement under section 139 of the Income Tax Act,1961 and non-filing of the same attracts a penalty Up-to Rs. 5,000/-. This penalty is over and above the interest or other consequences on nonpayment of tax. However, if a genuine reason is shown to the satisfaction of the ITO, it may be waived off or reduced.
Due Date Of Filing of ITR for Assessment Year 2020-21
| SL. NO. | TYPE OF TAXPAYER (ASSESSEE) | DUE DATE | TAX AUDIT CAES |
| --- | --- | --- | --- |
| 1. | Company | 30- Sep -2020 | 30- Sep -2020 |
| 2. | Limited Liability Partnership | 31 July 2020 | 30- Sep -2020 |
| 3. | Partnership | 31 July 2020 | 30- Sep -2020 |
| 4. | Proprietor | 31 July 2020 | 30- Sep -2020 |
| 5. | Individual | 31 July 2020 | 30- Sep -2020 |
Video on Income Tax Return Filing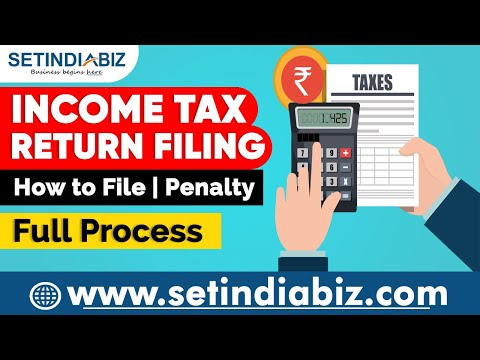 The return of Income Tax also known as ITR is a statement of taxable income, a computation as to how the taxable income is calculated and details of the taxes paid by the taxpayer during a specific financial year.
All India Services at Reasonable Price
CA, CS & Legal Services at One Place
Old is Gold, Serving startups Since 2004
Well, do you have questions?
Let us know, we shall revert back with a solution.
Review